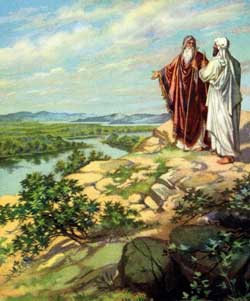 Het verhaal staat in de Bijbel in Genesis 13: 1-12 en houdt ons alle drie een spiegel voor. De Bedoeďne Abraham is kinderloos. Met Lot die hij als een zoon ervaart, vertrekt hij uit Egypte, naar het Zuiderland. Abraham zwerft rond en zoekt houvast voor de toekomst. Hij leeft wel vanuit de belofte van God, maar wat kan die belofte in deze situatie betekenen? Abraham gaat naar Beth-el= Huis van God, hij haalt God erbij. Abraham gaat heel bewust 'op tot Gods altaren'. Het altaar is voor hem de plaats waar je je leven voor God mag leggen, in alle kwetsbaarheid, in alle ontheemdheid, ook wanneer je je ondanks het geloof, toch zo verweesd en verlaten kunt voelen. Lot heeft andere zaken aan zijn hoofd, enkel wereldse zaken. Waar moeten ze allemaal wonen?
Abraham spreekt verzoenende taal: kies jij maar.
Lot spreekt niet. Hij kijkt alleen en kiest de Jordaan, groen en vruchtbaar. Lot heeft geen belofte van God nodig, hij kan het zelf wel. Lot grijpt zijn kans. Met wie zal Lot rekening houden? Met God en gebod, dus met een ander?
Als een weeskind gedraagt Lot zich, zonder God en gebod.
Abraham kiest als iemand die de wereld ziet door de bril van God en gebod.
Hij zegt: 'Waarom ruziemaken, we zijn toch familie?'
Lot kijkt werelds en pakt het recht om zelf het beste te bezitten.
Welke vraag stelt dit verhaal aan ons alle drie? Moeten we Lot veroordelen en Abraham prijzen? Volgens ons gaat om iets anders, namelijk om keuze-momenten in het leven. Willen we nadenken, wikken en wegen, als iemand die door de bril van Gods kijkt of gedragen we ons als een weeskind, los van God?
Vinden we dat onze cultuur en ons geloof beter is dan dat van anderen? Zien we de aarde als een woonplaats voor alle door God geschapen mensen of vinden we dat we als Jodin, Christen, Moslims de meeste rechten hebben? Geloven we, vertrouwen we er op dat Gods nabijheid, de Geest van Waarheid, je als mens kan ingeven hoe verder te gaan, welke keuze je kunt maken? Dat Gods nabijheid ons zal wijzen welke weg te gaan? Durven we ons hart te volgen, ook al is het werelds gezien niet altijd logisch. 'Waarom over elkaar oordelen, waarom over verschillen ruziemaken, we zijn toch familie?' Dan kijk je anders, dan reageer je anders. Het lost niet alles op, het opent wel andere mogelijkheden. We kunnen elkaar als mensen het gevoel geven welkom te zijn als mens, kostbaar te zijn in Gods ogen, dus ook in je eigen ogen.
Alle drie vinden dat het verhaal in Tenach, Bijbel en Koran ons deze spiegel voorhoudt.
Weeskind of kind van God. Welke taal spreekt ons leven?
Luister naar elkaar, heb wel kritiek op elkaar, maar … veroordeel elkaar niet. Neem elkaar serieus, probeer elkaar te begrijpen. Het opent vaak ongekende verrijkende mogelijkheden.
Corry Nicolay is PKN predikant interreligieuze communicatie.
Bovendien is ze voorzitter van de stichting 'Studenten en Musahar Project Nepal (SMPN)
wat samen met de Nepalezen ontwikkelingswerk verzorgt voor kansarme jongeren en kinderen.